Tim Godfrey is an Popular Nigerian gospel singer, producer, songwriter, music teacher, vocal instructor, art training consultant and writer. Tim Godfrey began music in 2004 and since then, grown into one of the biggest gospel music stars in Africa.
Aside being a music director,he is the founder of a gospel group called the Tim Godfrey and the Xtreme Crew. Find out more about Tim Godfery's son in this article.
Tim Godfrey and the Xtreme Crew group is a body focused on evangelism, and they also offer professional concerts and shows throughout the country. So far in his career, he has performed at concerts and churches across the world. He has so far collaborated with several international gospel artistes.
Tim Godfrey son
Tim Godfery is a proud father of a handsome boy called Bryan. Bryan clocked 14 in 2022. Presently he's remarried to Erica Katrina.
Godfrey and son
"From all the complain of….Daddy…you are always travelling…Daddy… you are too busy for me…Daddy I've not seen you for a week…And so on….And Suddenly….Daddy you are the best…Best ever…Daddy …i love you forever…#fearlessFather-Son-weekLove you @bryankingroyaltyBest time everrrrrr….."Father-Son-week….Daddy on duty!!!!He is obviously having fun….#myfaceBut I am fearless#canadaVacation
Godfrey First Wife
"The Woman I Loved Abandoned Me For A Man Working In NNPC"Rox Nation Label Founder, Tim Godfrey continues to shed light on real life issues on his #beforemy40th campaign, he revealed a pretty shocking truth to us all.
Tim said through the video he put up on his Instagram account that he has been in only two relationships all his life! He open-up that he was deeply in love with a lady as at 2004 but she left him to marry a man working in NNPC on her mother's instructions.
They say MEN don't cry but… I cried and begged… Like I cried and begged so hard… She didn't answer me Didn't get into any relationship 10 years after that!!!!" – he shared.
Tim Godfrey and Wife, Erica Katrina, Welcomes 1st Child together
Tim Godfrey and Wife, Erica Katrina, recently welcomed their first child together about 9 months after their wedding. A number of netizens reacted to the news by congratulating the couple. Taking to his official Instagram page, the Christian music star announced the news with his many followers with a lovely baby bump photo.
In the silhouette styled photo, Tim was seen kneeling before his heavily pregnant wife and giving her a kiss on her stomach. The gospel singer then accompanied the photo with a message where he gushed over his wife and their child.
He wrote: "My Baby and my baby Thank you Jesus!!!"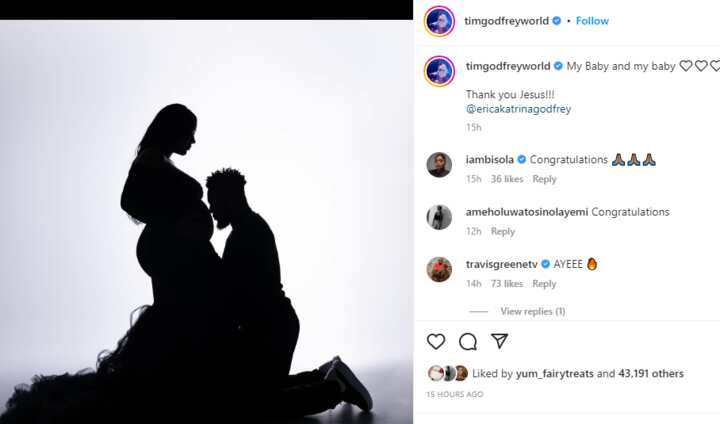 Nigerians react as gospel singer Tim Godfrey and wife welcome first child The good news of Tim Godfrey and his wife's newborn made the rounds on social media and sparked a series of interesting reactions. Many netizens congratulated the couple while others asked them questions. Na when them marry way day don born?