Church Gist
25 largest churches in America, how they grew
Millions of American believers have their choices for their place of worship. We have listed 25 largest churches in America and how they grew to what they are today.
What Are Megachurches?
A megachurch can be characterized as one that has regular weekly attendance of at least 2,000 people. Here are some reasons for Rapid Church Growth.
Growing churches tend to appeal to a younger generation.
They use state-of-the-art technology with Bible apps.
They have live-streamed sermons.
The music is modern with some Christian rock music performances.
There are active youth ministries.
Usually, the church has more than one campus.
25 Largest Churches in America
1. Lakewood Church
The largest church in America is Lakewood Church in Houston, Texas with Joel Osteen as its pastor. The average weekly attendance of his church is 43,500. Its denomination is Independent, non-denominational. Lakewood Church was founded by John Osteen on Mother's Day, May 10, 1959, inside an abandoned feed store in northeast Houston.
John, the father of Joel, was a Southern Baptist minister, but the church soon dropped "Baptist" from its name and became non-denominational. After John Osteen's death due to a heart attack on January 23, 1999, his youngest son, Joel Osteen, became the pastor.
Today, Pastor Joel and his wife Victoria are the senior pastors. Lakewood Church fills the former Houston Rockets basketball stadium. It has four English-language services and two Spanish-language services every week. Unlike most of the largest churches in America, Lakewood Church's congregation doesn't have various locations. It ranks number one in the country based on one meeting place – it's headquarters.
2. North Point Community Church
North Point Community Church was established in November 1995 by Andy Stanley. His father is Dr. Charles Stanley. For the church's first three years, the congregation met every other Sunday night in rented facilities. The moment the Olympics came to town, the church was unable to meet for up to nine weeks. Today, the church has six campuses making it the second largest congregation in the United States.
3. Life.Church
Life.Church was founded by Craig Groeschel in the year 1996 with 40 members meeting in a two-car garage that contained only a borrowed overhead projector. The church is part of the Evangelical Covenant Church and has 32 locations all around the country along with an active online community. The membership has grown rapidly. Other churches joined Life.Church. Today, it is a multi-church with 32 campuses.
4. Gateway Church
Gateway Church is a non-denominational, charismatic Christian multi-site megachurch based in Southlake, Texas, near Dallas. The church started out as a Bible-based, evangelistic church. Its first service was held on Easter morning, April 23, 2000, at the Hilton Hotel in Grapevine. 180 people in estimate attended the service. The church grew and moved to an old movie theater.
about:blank
Today, it is the largest congregation in the Dallas-Fort Worth area. Gateway Church is the fourth of the 25 largest churches in America.
5. Willow Creek Community Church
Willow Creek Community Church was founded in the Chicago suburb of South Barrington on October 12, 1975 by Bill Hybels and French-born Christian scholar Gilbert Bilezikian. Now has locations around the metropolitan area. It is an American non-denominational and multi-generational Evangelical Christian megachurch that has three-weekend services making it the fifth largest megachurch in the United States. It has seven locations including a Spanish-speaking congregation.
6. Fellowship Church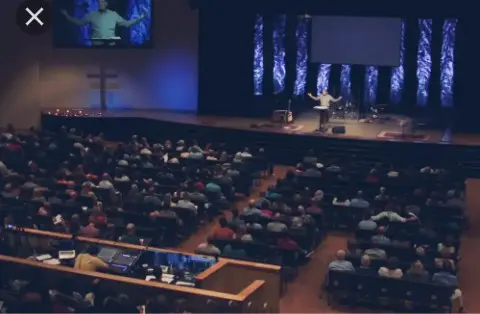 Fellowship Church located in Grapevine, Texas, is affiliated with the Southern Baptist Convention but is also part of the "seeker" movement, which aims to attract a wider audience through unorthodox methods. It was founded by Ed Young in 1989, and the church started out in a rented facility.
7. Christ's Church of the Valley
Church of the Valley was founded by Don Wilson in 1982 in his living room. He held the church's first services in a rented movie theatre and did not find a permanent home until 1996.The non-denominational church is located in Peoria, Arizona has over 200 full-time and part-time staff members.
8. NewSpring Church
NewSpring is the largest church in South Carolina with 15 campuses and online services. It was founded in 2000 by Perry Noble. However, in 2016, Noble was removed for alcohol abuse and other moral issues. Since then, the church has been led by four lead pastors.Perry recently filed paperwork to start a new church in South Carolina. It is named Second Chance Church.
9. Elevation Church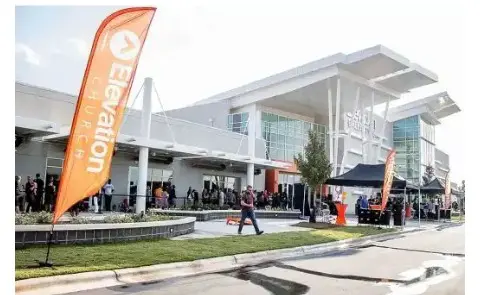 Elevation Church was founded in 2006 by Steven Furtick, who was in his mid-twenties at the time. The Southern Baptist multi-site church based in Charlotte, North Carolina.Elevation currently has 17 locations, with 9 of them in the Charlotte area. The church has been described as "a pop culture-friendly church with an orthodox Christian message." The services feature loud rock music as well as preaching.
10. Church of the Highlands
Church of the Highlands is a non-denominational, Christian multi-site megachurch headquartered in Birmingham, Alabama. The church was founded by Chris Hodges on February 4, 2001, with a core group of 34 people. It is the largest church in Alabama based on weekly attendance. Hodges also founded Highlands College, a ministry training school.
11. Saddleback Church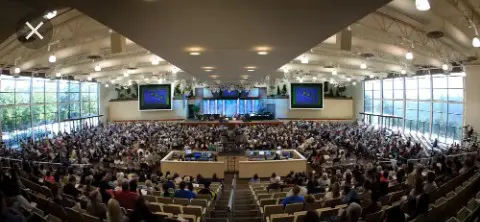 Saddleback Church is an evangelical Christian megachurch located in Lake Forest, California. It is affiliated with the Southern Baptist Convention. The church was founded in 1980 by Pastor Rick Warren. The ranking of largest churches includes multi-site churches. Saddleback's first public service was held on Palm Sunday, March 30, 1980 with 40 people in attendance at the Laguna Hills High School Theater.
Just one week later, on Easter Sunday, 240 were in attendance. Warren's church growth methods led to rapid growth and the church has used nearly 80 different facilities in its 30-year history.Saddleback did not build its first permanent building until it had 10,000 people attending on weekly basis.
Before the current Lake Forest campus was purchased in the early 1990s, a 2,300-seat plastic tent was used for worship services for several years, with four services each weekend. In 1995, the current Worship Center was completed with a seating capacity of 3,500. Saddleback Church currently has 13 regional campuses. Pastor Rick Warren is the author of popular book "The Purpose Driven Life."
12. Southeast Christian Church
Southeast is the largest church in Kentucky. It now has six campuses, including a recently opened one in Elizabethtown in a building that previously housed a Winn Dixie supermarket. The church began on July 1, 1962 with just 53 members.
13. Central Christian Church
Central Church was founded in 1962. It has several locations around the word. The church describes itself as "a place where it's okay to not be okay." The current pastor is Jud Wilhite. The church comes in the middle of the pack of the 25 largest church.
14. Dream City Church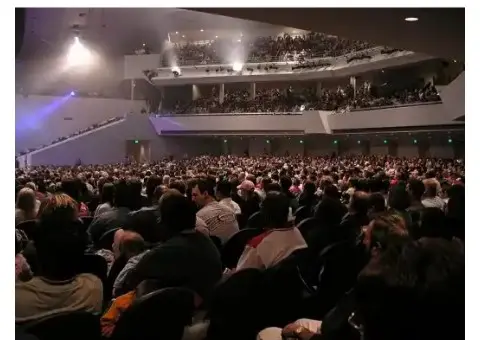 Dream City Church is an Assemblies of God megachurch. It was founded as Phoenix First Assembly in 1923. It has experienced rapid growth in recent years. The church opened a Scottsdale campus in 2015 and merged with Community Church of Joy in Glendale in 2016.
15. Second Baptist Church
Second Baptist Church in Houston, Texas was founded in 1927. Ed Young is the pastor. There are 6 locations with services in English and Spanish. It is affiliated with the Southern Baptists of Texas Convention.The church has been described by its pastor as "a town within a city."
READ MORE: Richest Pastors In The Word and Net Worth
16. Christ Fellowship
Christ Fellowship is a multi-site, multi-ethnic, megachurch based in Palm Beach Gardens, Florida with eight campuses throughout South Florida. The church was started in 1984 as a small Bible study with only 40 people in the living room of the founders, Dr. Tom and Donna Mullins.Christ Fellowship has seven locations in South Florida in addition to its main location in Palm Beach Gardens. It offers services in Spanish and streams services live via a "Christ Fellowship App."
17. Calvary Chapel Fort Lauderdale
Calvary Chapel Fort Lauderdale was founded in 1985 by Bob Coy, who previously worked in the Las Vegas music industry. It is an evangelical megachurch and is led by Pastor Doug Sauder. In addition to its main campus, the church has nine regional campus locations in Florida.
18. Woodlands Church
Woodlands Church is a Christian non-denominational megachurch founded by Pastor Kerry Shook in 1993. It became one of the fastest growing churches in the country. The main campus is in The Woodlands, Texas, about 27 miles north of downtown Houston, and it has four campuses.
19. Eagle Brook Church
Eagle Brook Church, which was started in a living room in the 1940s, was originally called First Baptist Church but changed its name in 1997 to attract people from other denominations. It now has a number of campuses in suburban Minneapolis-St. Paul, Minnesota. The Eagle Brook Association is a ministry that helps other churches reach more people through leadership training for pastors and staff. Pastor John Hagee at Cornerstone Church Sings "My God Is Real" with the Choir
20. Cornerstone Church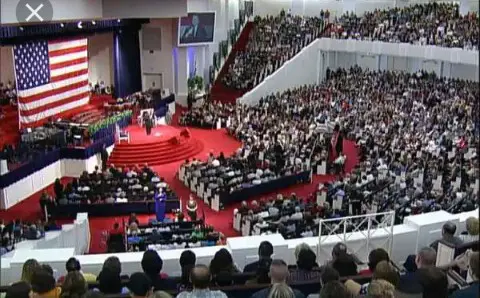 John Charles Hagee is the founder and senior pastor of Cornerstone Church in San Antonio, Texas. He is the fifth of six pastors in his family with the same name. His youngest son Matthew is the executive pastor.Cornerstone was not the first name of the church. Hagee founded The Church at Castle Hills on Mother's Day, May 11, 1975, with 25 members.
Within two years, he built a new sanctuary with seating for 1,600 people. On October 4, 1987, Hagee dedicated a 5,000+-seat sanctuary and named it Cornerstone Church. Today, the church is number 20 on the list of 25 largest church. The last data showed 17,000 members.
21. Christ the King Community Church
Headquartered in Burlington, Washington, Christ the King Church has several locations in the state and all over the country. It is one church that meets in many locations.Because of its many locations, the church ranks number 21 of the 25 megachurches in the United States. However, it would not have made the list if only one located had been ranked.
22. Calvary Albuquerque
Calvary Chapel is an association of evangelical Christian churches.Beginning in 1965 in Southern California, this fellowship of churches grew out of Chuck Smith's Calvary Chapel Costa Mesa. Skip Heitzig began a Bible study in his house which eventually became Calvary Albuquerque and one of the fastest growing churches in America.
23. Crossroads
Crossroads was started by 11 friends in Cincinnati in 1995 and has been growing rapidly since.Last year, Crossroads merged with a similarly named but unrelated church in Lexington, Kentucky. It now has six churches in the Cincinnati area and others around Ohio and Kentucky.
24. McLean Bible Church
McLean Bible Church was founded in 1961 by a group of five families Northern Virginia. Its first service was held on Easter Sunday at Chesterbook Elementary School in McLean with Pastor J. Albert Ford. Today it has several locations in the Washington, D.C. metropolitan area.
25.The Potter's House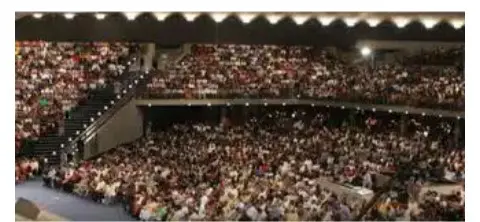 Televangelist W.V. Grant established the Eagles Nest Family Church in Dallas in the 1980s. After Grant was convicted of tax evasion in 1996 and sentenced to prison, he sold the facility to fellow televangelist T.D. Jakes, who relaunched it as The Potter's House with 50 families.